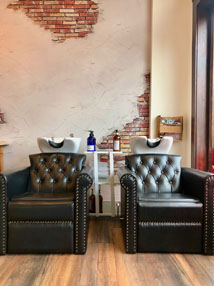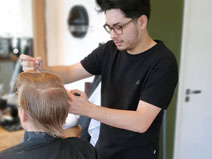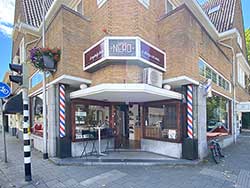 ABOUT NERO
On the corner of perhaps the most famous intersection of Bussum you will find Nero Barbershop Bussum! A place where craftsmanship, character, and enjoyment come together in one space.
A place where people prefer to arrive ten minutes earlier to acclimatize while enjoying a cup of coffee or tea to take in the ambiance before undergoing the planned treatment. Sit down in the chair of one of our craftsmen where you can have a pleasant conversation in addition to being cut and/or shaved. The right combination of quality and a good conversation or a nice chat makes our barbershop what it is.
The right combination of quality and a good conversation or a nice chat makes our barbershop what it is.We find it important that both our customer and ourselves can be ourselves that brings out the best in our people. There is therefore a friendly atmosphere of 'amongst friends'.
In addition we attach great importance to quality. For example we sell high-end hair products that have been specifically developed for men and contain exactly the right ingredients that actually have a function in the product. Our product knowledge is a major advantage here. But the combination with being able to give solid hair advice based on, for example, skin type, face shape, or facial hair makes our shop of great added value for the self-respecting man.
Over the years we have received various nominations and awards for this vision ranging from 'best barbershop' to the 'oscars' of the hairdressing industry (ANKO awards). This gives us an extra boost to continue and develop!

We look forward to welcoming you in our shop at Brinklaan 18 (on the corner of that famous intersection).We recommend that you make an appointment to be sure of a spot. You can make your appointment via our website or via our app which you can find in Google Playstore and Appstore
We would like to invite you to our comfortable chair and we will embark on a stylish adventure with you while enjoying a good cup of coffee!
Character
We are headstrong, caring, patient and at times a touch rebellious.
OUR SERVICES
Everybody loves a sharp cut man.

Clipper
All in 1 length without overflow

Cut
We give you a cool or decent haircut. A 'sharp cut', as the English say (the Americans too by the way)

Beard
Beard trimming inc shaving contours and neck

Shaving
Sit down for an old-fashioned good shave
Home
Take a seat in our comfortable our chair and enter that pleasant state of being. You will automatically feel at home.
VISITING HOURS
View our opening hours here.
Bold
It takes great courage to cut something off, from the barber but also requires it from you as a customer.
PRICE LIST
Every man is welcome at Nero Barbershop. We give you a cool or neat haircut. A 'sharp cut', as the English say (so do the Americans, by the way). Or take a seat for an old-fashioned good shave. A fresh shave like in an old Hollywood movie, but for real.
Well, our prices: